I've been on a bit of a blog hiatus recently because I've not really felt inspired to write anything. I've been reading a lot but I've not felt like sitting down to review the books I've been reading, I've enjoyed just letting them be at peace. This is a post I've had in my draft for a while now so as I was feeling inspired to blog again, but not write a straight up book review, I thought it'd be a good time to finish it off.
As you all know by now thanks to previous posts on anime films and the manga series Death Note, I really love anime. I love the gripping plots, the melodrama, the art, and the characters. This doesn't mean that I can't look past the issues of the genre. Abusive, stalker-ish behaviours are often passed off as romance and there are some major issues with sexism, and the sexualisation of (often under-aged) female characters. I believe that you can enjoy problematic media and appreciate the entertainment value of the programme while not agreeing with the values the programme appears to support. I also think about how a lot of young women find a means of expressions and representation by seeing teen-aged girls on screen being badass and beautiful, as in No Game, No Life or Sword Art Online, or being soft and caring yet highly valued by her peers as in Blue Exorcist and Steins;Gate.
I thought it'd be fun to do a favourites list from the anime's I've watched so far, maybe in the future this list will change and grow, I'm definitely open to suggestions in the comments below.
8: No Game, No Life
This is only at the bottom of my list because of the lack of content, there were only 12 episodes in the series and I was definitely left wanting more. The basic premise is that a brother and sister duo are catapulted into a fantasy world in which every conflict is solved by a game. Cue game theory, statistics, bawdy comedy, and colourful artwork. The art style of this anime is very unique as the line work is in dark red rather than the traditional black, and everything comes with a rainbow-bright feel. As I mentioned in the introduction, No Game, No Life does suffer from the cultural difference that are present in anime, there is an over-sexualisation of the female characters but at the same time one half of the main-duo is a badass young girl who shows how far intelligence and strategy can get you. Saying this, it is probably easiest to just enjoy this anime as a colourful comedy than try to find positive female representation.
7: Sword Art Online
Sword Art Online is an action packed anime set inside a virtual reality MMORPG game in which the crazed creator has trapped all the user base, if the characters die inside this fantasy world they die in their real lives with the headsets strapped to their faces. There's romance, violence, and interesting discourses about tyranny and society. It's great if you're a fan of fight scenes and lots of epic hero monologues. It was let down by a disappointing season two which didn't live up to the amazing story telling and character development of season one, therefore it didn't get a spot in my top five.
6: Blue Exorcist
The half-demon son of Satan is brought up in a church orphanage by a kick-ass priest. When he finds out about his heritage he decides that he wants to 'kick Satan in the ass' and join a school for exorcists where his brother, who didn't inherit any demonic traits, is a high achieving student. There's a cast of compelling and varied characters, and a two-tailed demon cat. This anime is action packed and full of great visuals and fight sequences, along with fun high school drama. It builds to a dramatic conclusions, and blends comedy with drama perfectly. It is complimented by the visually stunning companion movie of the same name.
5: The Seven Deadly Sins
I love a medieval fantasy world, and if you like that sort of thing too this anime is my recommendation. Princess Elizabeth of the Kingdom of Britannia sets out on a quest to reunite 'The Seven Deadly Sins' a group of powerful knights that she believes will save her kingdom from corruption and eventual destruction. This is a bawdy comedy full of fun characters and over the top fight sequences, there's demons, immortals, and a talking pig. I love it because it's purely fun and light-hearted.
4: Your Lie in April
This is a beautiful anime about friendship, inspiration, and self-belief. Kōsei Arima, a piano prodigy, hasn't played for four years after succumbing to a case of stage-fright and buckling under the pressure provided by his terminally ill mother. One day a girl called Kaori changes everything for him, she is a free-spirited violinist who inspires him to play again. This is the start of a gripping emotional drama, with heart-wrenching tragedies, heart-thumping tensions, and heart-melting love. The anime is all pulled together by beautiful musical sequences on piano and violin which portray the deep emotional struggles of the characters.
3: Code Geass; Lelouch of the Rebellion
This is not the sort of anime that I thought that I'd enjoy going into it, there's a lot of robot-battles, political turmoil, and violence, but I found myself gripped by the human relationships which are the focus of this story. In an alternative future in which the world is run by three major superpowers Japan has been colonised and renamed 'Area 11' by the 'Holy Britannia Empire', from this a narrative of rebellion, super-natural powers, personal struggles with ego and identity, and family tragedy ensues. There's definitely a thinly-veiled commentary on the tyranny of the British Empire present throughout as traditional British values are placed at the forefront of civilized society. I would recommend this is you're a fan of a high-stakes action packed drama full of bold characters.
2: Steins;Gate
A gang of misfits. A time travel microwave. Paradoxes, heartbreaks, science babble, and a lot of Dr Pepper. I love this anime because the plot was so complex, and yet fell together in just the right way so that it never became confusing. There were elements that reminded me of Doctor Who and Sherlock which are a couple of my favourite TV shows so I felt like I'd be a big fan from episode one, and I was.
1: 'Death Note'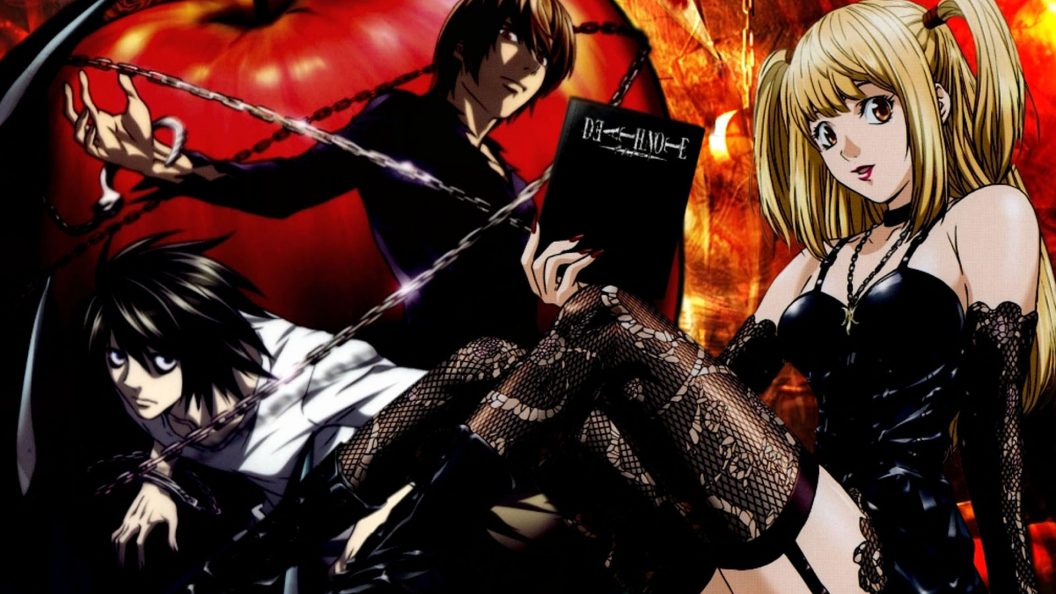 I recently read and reviewed the manga of this series and was reminded why it's my favourite anime I've seen so far, since watching it as my very first anime I've as yet not quite been able to top it. The high-stakes story and the compelling complex characters make for an absolutely binge worthy 37 episodes. I would highly recommend 'Death Note' to anyone that would like to get into anime, read my review of the manga for a more complex look at the plot and themes.